Our Opening Day for the new season will take place on Sunday, September 23 at Mercury Hotel in Altunizade.
On this special day we will be with our precious astrologer friends. Meira Epstein, Meira Epstein – Instructor at the New York NCGR faculty, and speaker at national and international conferences, Wendy Stacey – Principal of Mayo Scholl of Astrology, David Cochrane – founder of Avalon Astrology School, Aleksandar Imsiragic – ISAR President and Education Director , Lea Imsiragic – ISAR and Kepler United Astrology School Instructor will be with us. We start the new season with a a great information bombardment! Our distinguished guests will present wonderful seminars throughout the day. Book signings of our international and national authors will also take place.
We start the new season with new books! Are you ready for wet-signed books from your authors?
In our "Opening Day" event, AstroArt Astrology School Publications connects 10 new books and authors with their readers! Moreover, among the participants, 10 lucky people will win one of our new books as a gift.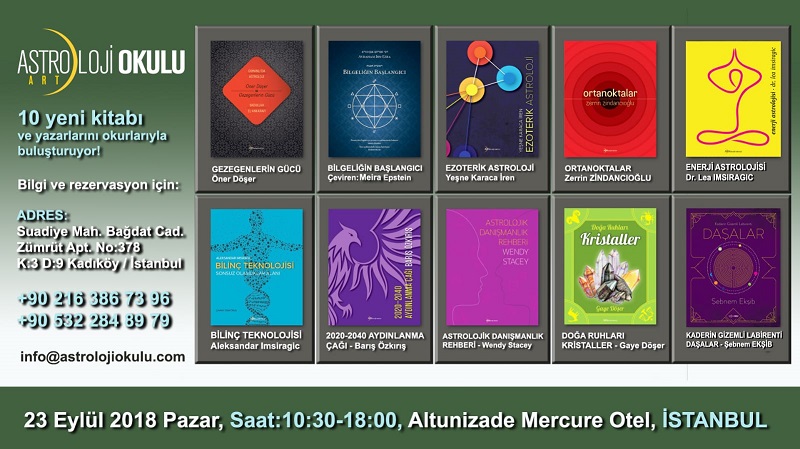 Our new books:
Meira Epstein – Bilgeliğin Başlangıcı
Aleksandar Imsiragic – Bilinç Teknolojisi
Lea Imsiragic – Enerji Astrolojisi
Wendy Stacey – Astrolojik Danışmanlık Rehberi  
Yeşne Karaca İren – Ezoterik Astroloji
Zerrin Zindancıoğlu – Orta Noktalar
Şebnem Ekşib – Daşalar
Barış Özkırış – 2020-2040 Aydınlanma Çağı
Gaye Döşer – Doğa Ruhları Kristaller
Öner Döşer – Gezegenlerin Gücü
---
Schedule
September 23, 2018, Sunday – Mercure Hotel, Altunizade
Hande Kazanova, one of the graduates of School of Astrology and instructors will be announcing the Opening Day starting with the opening speech of our founder Öner Döşer.
10.30-10.45 Opening speech (by Öner Döşer)
10.45-11.15 ÖNER DÖŞER
Power of the Planets
In natal astrology, both in electional and horary astrology, the powers of the planets and their relation to each other are the most importance in terms of astrological predictions. In this presentation sharing the same name with our new book, we will talk about the important rules that the Sadullah Efendi in Ankara wrote; we will once again show how important both the forces of the planets and the relations between the planets are. It will be an unforgettable opportunity for those who want to learn the subtleties of astrology!
11.15-11.45 Book signing activity
11.45-12.30 MEIRA EPISTEIN
Ptolemy's Universe:
How Did They Read Charts without Uranus, Neptune, and Pluto?
Some Things Never Change:  Going back to classical astrology – from Vettius Valens, through Ibn Ezra and William Lilly, we see the methods they used, the conclusions they came to, and compare it with modern techniques and the new planets.
12.30-13.15 WENDY STACEY
Your Astrological Practice – Working with Clients:
This talk is for those who are interested in starting or extending their astrological profile and practice.  The session will explore practical areas such as fees, ethics and innovate and creative ways to market yourself and promote your business. Wendy will explore how we can recognise and make the most of the opportunities that lay ahead for those who want to already work with clients or wish to do so.
Lunch Break 13.15-14.15
14.15-15:00 DAVID COCHRANE
Marriages Made in Heaven: New Insights Using Vibrational Astrology
What are the graphics of rare Hollywood celebrities who have a long, stable and happy marriage? What are the maps of rock stars that together make the bigger effect bigger? What we see on these maps is that people are in the same cosmic wave. In this presentation we will learn how to use Vibrational Astrology to see the beautiful, elegant patterns that form between two people.
Coffee Break 15.00-15.15
15.15-16.00 LEA IMSIRAGIC
Quick Balance with Energy Astrology – Look and Feel Young
Understanding the relationship between planets and energy centers at the physiological level allows you to clearly understand what your energy is building and what is emptying. You will learn a unique system of Energy Astrology that involves the application of practical techniques such as planetary exercises, frequency exercises, natural plant products and affirmations. This system has helped more than 500 women achieve hormonal balance, regain their youth, and increase their joy and ability to put forth their wishes.
Coffee Break 16.00-16.15
16.15-17.00 ALEKSANDAR IMSIRAGIC
Astrology and Consciousness
Our karmic code is also balanced when we can balance all the opponents. And we can see this by seeing that the person sitting or standing in front of us is automatically differentiated and aligned with us. Because this person is nothing but a part of our own Being and our Universe.
We will learn how this consciousness on the birth chart and the awakening of consciousness change the internal and external reality of our destiny.
17.00-18.00 Certificate Ceremony and Closing
After our last speaker, we will present the certificate. Certificates will be presented to our students who have attended courses in Horary (Question) Astrology and Electional (Elective) Astrology, which have specialist trainings in our school's education program, and are entitled to receive certificates.
Certificates and diplomas of our students who take the exam for Compensation of Basic, Intermediate and Advanced courses will be presented to them by Öner Döşer. The ISAR Ethics Principles and Advisory Skills Trainings certificates attended by our advanced students will be presented to them by ISAR President Aleksandar Imsiragic.
See you at OPENING DAY event!
---
FREE EVENT!
For more Information and Registration:
0216 386 73 96 – 0216 358 12 23 – 0532 284 89 79 – [email protected][/vc_column_text][/vc_column][/vc_row]