Horary Course with Öner Döşer
Horary Astrology, which is one of the important branches of Traditional Astrology, deals with the questions. Known as Mesail in Ottoman Turkish, it is the plural form of mesele" which means problem or question, it is a branch of astrology based on horoscopes erected for making judgements on immediate questions. The astrologer erects the chart for the moment when he understands the question and judges this chart. It is the most interesting branch of astrology as, when its rules are applied meticulously, it provides surprisingly correct predictions. It is an essential branch of astrology that any student of classical astrology should study.
As AstroArt School of Astrology, we have run classes on Horary Astrology over the last decade. Through this course, our aim is to teach the student how to give specific answers for specific questions.
This 12-week online course, which will be in English and will be held on Perculus system, will start as of November 12, 2022.
---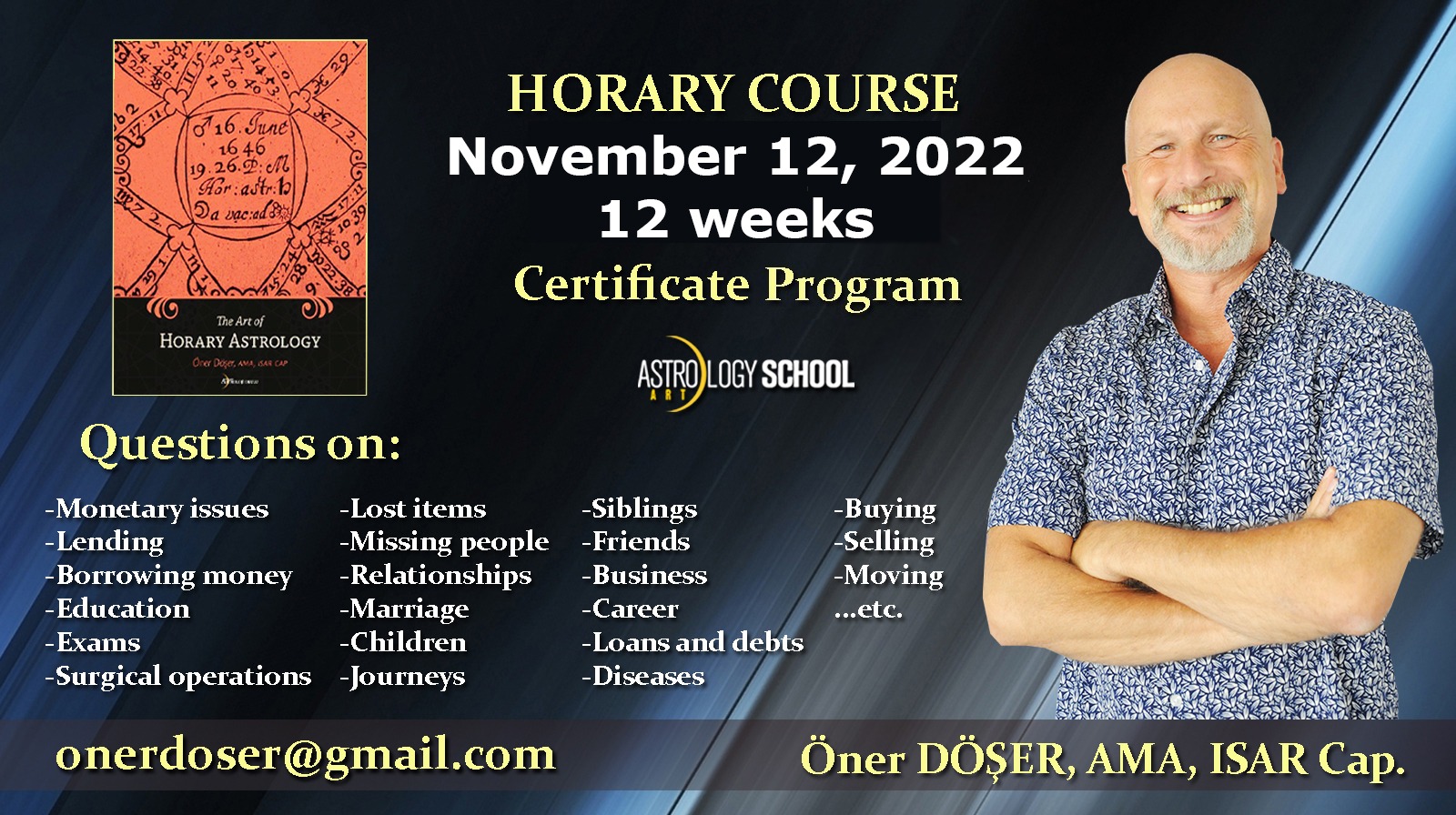 Details about the course:
Instructor: Öner Döşer, AMA, ISAR Cap (OPA Satellite for Turkey)
Start date: November 12, 2022
Duration: 12 lessons (once a week)
Time: 21:00-23:15 (Turkey local hour), every Saturday
Requirement for attendance: Knowledge of Basic Astrology
Place: Online via Perculus system
Fee: 500 USD + VAT= 590 USD for 12 lessons (will be paid in advance)
Registration: 0090 216 386 73 96 – [email protected]
---
Schedule
1st lesson: Introduction, practical rules
2nd lesson: Practical rules
3rd lesson: Questions on life, death and inheritance
4th lesson: Questions on diseases and surgical operations
5th lesson: Questions on lost items and missing people
6th lesson: Questions on marriage and relationships
7th lesson: Questions on children
8th lesson: Questions on wisdom, religion, dreams, education and journeys
9th lesson: Questions on parents, siblings and friends
10th lesson: Questions on business and career
11th lesson: Questions related to monetary issues like lending and borrowing, loans and debts
12th lesson: Questions related to buying and selling real estate and moving
---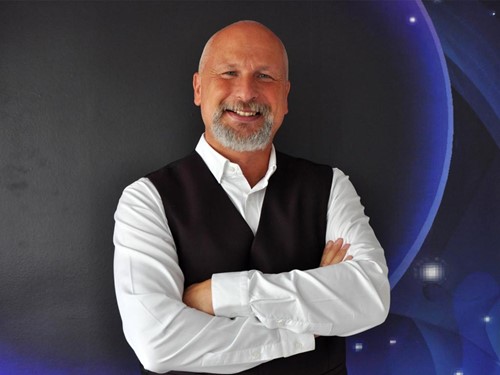 Öner Döşer, the founder of AstroArt School of Astrology, School of Astrology Publishing, and Astrology Television on internet, is an astrology consultant, author and lecturer, who completed the Robert Zoller's Medieval Astrology Course and has been rewarded with a Diploma in Medieval Astrology (AMA).
As 20 years experienced astrologer on Horary Astrology and the writer of the Art of Horary Astrology, Öner is the writer and co-writer of 38 books, 14 of them have been translated into English, and his articles have been published in The Astrological Journal, The Career Astrologer Magazine and ISAR web site. He participated in several organizations abroad as a lecturer. In order to support his efforts to give sound knowledge on astrology in Turkey, he has been organizing an annual event named International Astrology Days and inviting well-known astrologers from different countries and help them meet with the astrology students and astrology lovers in Turkey. Having trained over 3000 students, he took some important steps as of 2016 and AstroArt School of Astrology (ASA) has been added to the approved school lists of APAI and ISAR. He is a member of The Association of Professional Astrologers International (APAI), International Society for Astrological Research (ISAR) proficiency certificate holder and Turkey Satellite of Organization for Professional Astrology (OPA). He is also offering Predictive Astrology module at Kepler College-Seattle.
Contact: [email protected] / www.onerdoser.com / www.astrolojiokulu.com