Electional astrology is one of the oldest branches of Astrology. Election Astrology, one of the oldest branches of astrology and was used to chose the best time possible to commence any undertaking, whether that is the best time to send out our CV, marry, start a business, launch a ship, build a new home; in fact everything where we have some control over the start of any endeavor. We take into account the day, hour and minute using either a root chart, or, a chart of a particular day. In this 9 week course we will look at theory of Electional Astrology, consider the different rules that may apply for different areas of life and have some fun along the way. The aim of the course is to give students confidence when determining the right time to elect any undertaking.
Instructor: Sharon Knight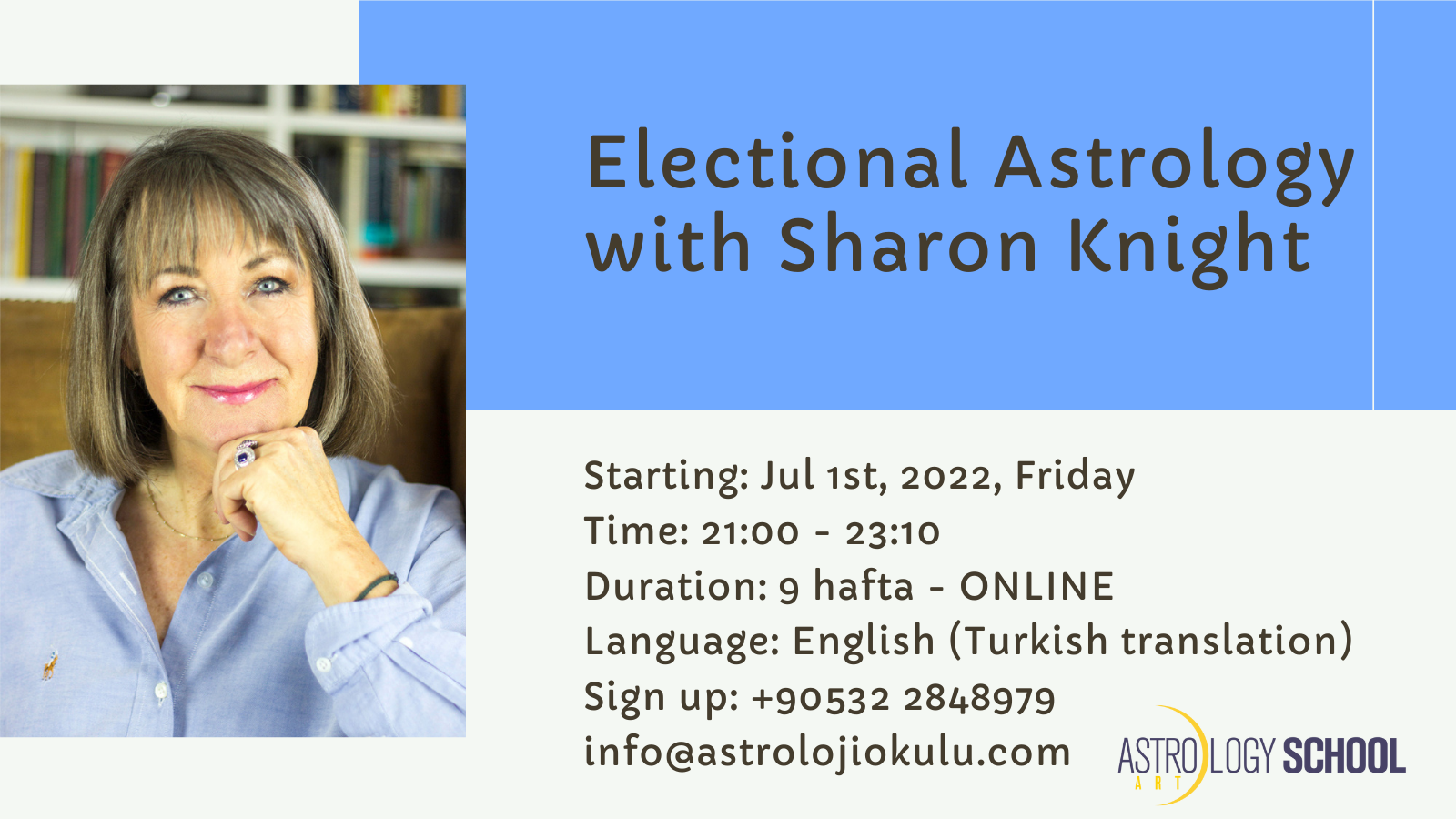 Program duration:  Weeks
Starting: 01 July 2022, Fridayday
Lesson start time: 21.00 – 23.10
Lesson duration: 2 hours
Registration: 0532 284 89 79 – [email protected]
Fee: 3600 TL + %18 VAT = 4248 TL
---
Week 1.
What is Electional Astrology?
How does it differ from Horary & other branches of astrology.
Why use Electional?
Types of Elections. Mundane, Universal (normally using the Moon and planets) & Radical or Particular.  We shall be focusing on Universal and Particular.
Problems and Realities of using Electional Astrology.
Looking at technical terms, general conditions, using the ephemeris
Week 2.
Review of last week
Moon signs
Planetary Days & Planetary Hours, their uses and importance. How to find them
Simple universal elections
Personal Elections.
Week 3
General Principles.
Lot of Fortune. How to find it easily, rules; its uses and importance.
Money! Assets! Houses 2 & 8.
Buying, selling, investing, making Wills
Week 4.
Review
Lunar Mansions, their use and how to find them
Elections relating to the 3rd & 9th houses
Week 5.
Review
Fixed stars; their importance and use in any election.
Elections relating to the 4th & 10th houses.
Coronations, career, building, matters related to the home, family and domestic matters.
Week 6.
Almutens and their use in marriage and other elections.
Elections relating to 5th, 7th and 11th houses. Marriage, children, business partnerships, friends, entertainment etc.
Week 7.
Medical, matters related to the 6th house.
Week 8.
Review of the preceding weeks. Conception.
Looking at answers to the exercises.
Some Aphorisms relating to matters not already covered.
Week 9.
General course discussion and a further look at some of the topics covered over the past 8 weeks as requested by the Students.