Navigating celestial waters with Electional Astrology – WADE CAVES
Elections form the branch of astrology that focuses on selecting ideal times for the big decisions in our lives. In this workshop, we will explore the guiding principles of electional astrology, complete with example charts and practical exercises. The techniques are simple and straightforward once understood and will better equip any practicing astrologer in their future elections. In a group discussion, we will also consider how elections fold into other branches of astrology.
11th International Astrology Days will continue on Mar 25th and 26th with workshops that will take place in Altunizade Mercure Hotel. Workshops are suitable for beginner level students at least, for researchers, astrologers and astrology instructors.  Presentations of our foreign speakers will be translated into Turkish consecutively.
---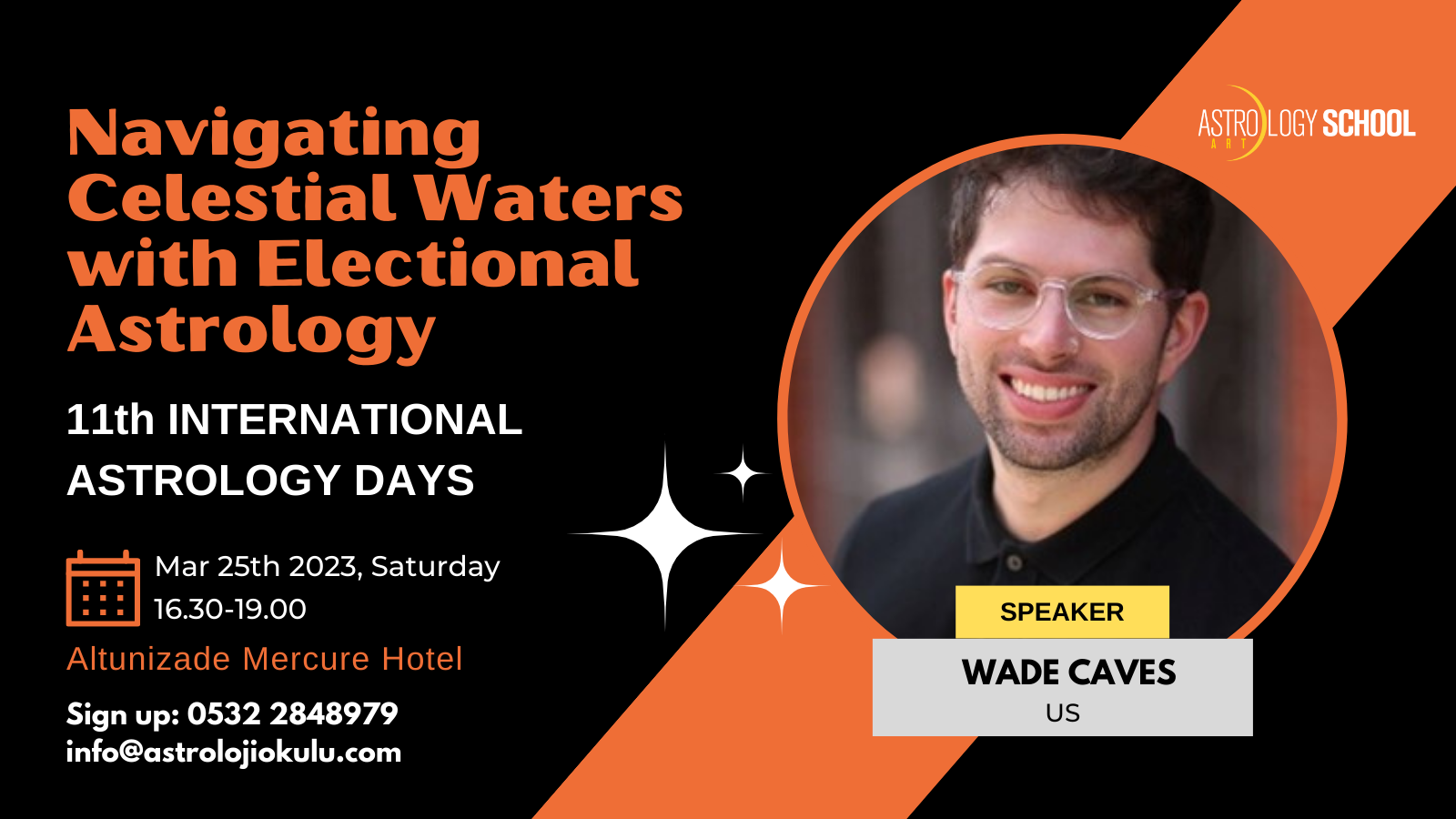 Mar 25-26th, 2023 – The quota for each Workshop is limited to 120 people.
Workshop fees:
Single workshop: 500 TL + VAT = 590 TL
Special discount for AstroArt Astrology School students and graduates: 400 TL + VAT = 472 TL
Special deals:
10% discount is applied for registration and cash payments for attending all 6 workshops.
2700 TL + VAT = 3186 TL (instead of 3000 TL + VAT = 3540 TL)
A 10% discount is applied to AstroArt School of Astrology students and graduates for registration and cash payments for all 6 Workshops.
2160 TL + VAT = 2549 TL (instead of 2400 TL + VAT = 2832 TL)
*Credit cards accepted.
A substantial amount of the income of this event will be donated to earthquake victims.
---
ABOUT SPEAKER
Wade Caves is an astrological consultant and educator specialising in horary, mundane and classical astrological technique. He was certified with honours from the Mayo School of Astrology and School of Traditional Astrology (STA). Wade's passion is in understanding the historical and philosophical origins of astrological symbolism, with an emphasis on what bears consistent and reliable fruit in practice. He is the editor and annotator of the 300th-anniversary edition of William Lilly's History of His Life and Times (Rubedo Press, 2015), and teaches horary and astronomy for the STA. Contact: http://wadecaves.com / [email protected].