Who Are We?
AstroArt School of Astrology (ASA)  has been founded in 2005 with the purpose to give an internationally approved high quality astrology education and to popularize this education throughout the country.  Since its foundation, ASA has been one of the best astrology schools in the country due to its efforts that were targeted in its founding philosophy. In addition to its efficient and qualified education system, ASA also takes the lead in establishing an active and co-operative astrology community.
Our Founder - Öner Döşer
Öner Döşer is an astrology consultant, instructor, researcher and author.
So far he has written 39 books, 14 of them translated into English, Chinese and Serbian. His articles have been translated into English, Spanish, Chinese, Serbian, Bulgarian and Finnish and published in reputable astrology journals and websites.
Öner is the founder of AstroArt School of Astrology, School of Astrology Publications and Astrology Television. Since 2012, he has been organizing annual event in Turkey, International Astrology Days, with the participation of world-renowned astrologers. He was a speaker at major international astrology organizations. So far he has trained more than 4000 students, many of them became teachers and writers in astrological community. As of 2016, AstroArt School of Astrology has been on the list of approved schools of APAI and ISAR, having Turkish and English certificate and diploma programs for students from all over the world.
Öner is on the list of instructors at Kepler College based in Seattle, USA, and teaches online courses at this educational institution.
He received Robert Zoller's Medieval Astrology Diploma, ISAR (International Society of Astrological Research Society) and OPA (Organization for Professional Astrology) certificates, he is a member of APAI (Association of Professional Astrologers International) and ISAR.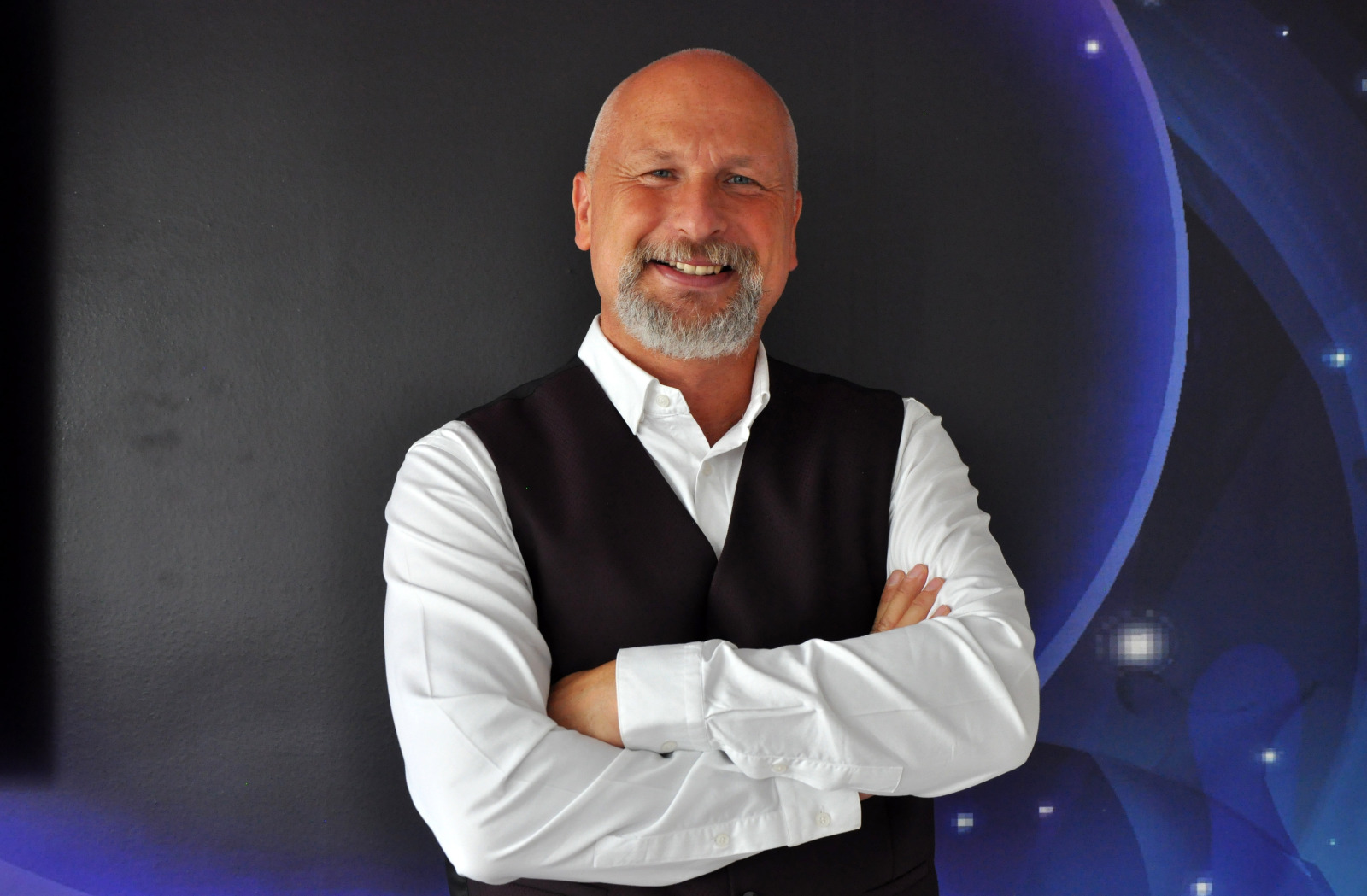 Education System and the Teachers
ASA attracts considerable attention due the depth of its education system that blends classical and modern astrology techniques. Following the completion of Beginner Level courses, students may attend Specialty Courses including Medical Astrology, Mundane Astrology, Financial Astrology, Esoteric Astrology, Uranian Astrology, Cosmic Astrology, Horary Astrology and Electional Astrology which resolutely helped ASA to be the leader in its field. Specialty courses are given by several teachers, all experts in their own fields.
ASA is proud to include international experts to its instructor portfolio through online classes since 2015. The students easily understand the courses through our simultaneous translation service.
Interactive and Live Online Education
During several years in education sector, we always believed that technological opportunities are vital for being widespread throughout the country. In 2009, we set up an online education system as a pioneer. We offer detailed information in our online classes as we do in-class lessons and we make practices on the natal charts of the students. Our broadcasts via Astrology Television, the first TV on astrology in Turkey, reached Germany, Cyprus and Holland. Under the frame of equal opportunities conception, we care about this service which carries our qualified education system to everywhere within the country.
AstroArt School of Astrology Publications
Various national and international astrology books are published by our publishing house that was founded in 2012. Those books include course materials, the books written by our teachers and various researches. On the other hand, books written by valuable astrologers like Glenn Perry, Lea Imsiragic, Deborah Houlding and Benjamin Dykes has been translated and met Turkish readers. Until now, 44 books have been published by our publishing house which meets the need of publishing qualified books on astrology. Some of the books published are written by our graduates and other graduates who are willing and talented to write are encouraged. Our book "Burçlar Hakkında Her Şey" (Everything on Signs, not translated yet) was written by 12 authors, many of which are the graduates of our school. The authors/co-authors of the books "İlişkiler Astrolojisi" (Synastry, not translated yet) and "Ay Düğümleri" (Lunar Nodes, not translated yet), which present detailed information for the ones who want to learn astrology, are also our graduates.
Astrology Journal
Astrology Journal, which was founded in 2006 to publish scientific articles on astrology, reunites with the readers as a section in School of Astrology web site.
AstroArt Astrology Television
AstroArt Astrology Television was founded in 2012 to share our videos on astrology. In addition to weekly and monthly prediction videos, the basics of astrology are presented through our videos under the title "We Are Learning Astrology". The videos of our seminars (paid/free) also presented.

AstroArt Astrology Shop
Jewellery, natural stones, books and souvenirs related with astrology are available in AstroArt Astrology Shop which was founded in 2015.
International Astrology Days Event
Our school is in Istanbul, the city which connects two continents and where the cultures of the East and the West are blended. It is a city that serves as a bridge between the cultures for many centuries. Due to its special location, another mission of our school is to bring astrology lovers from both cultures together and to host a social event that knowledge and developments in astrology are shared at an international level. Under this mission, AstroArt School of Astrology has been organizing an annual event under the name "International Astrology Days" starting with 2010. In 2012, many precious and well-known astrologers attended the organisation. The event, which is organised on March 21 of each year, is a social platform that the new astrological year is celebrated and many lecturers from various countries attend. In addition to public seminars which are free of charge, our guests form the international arena and our astrology students present various workshops.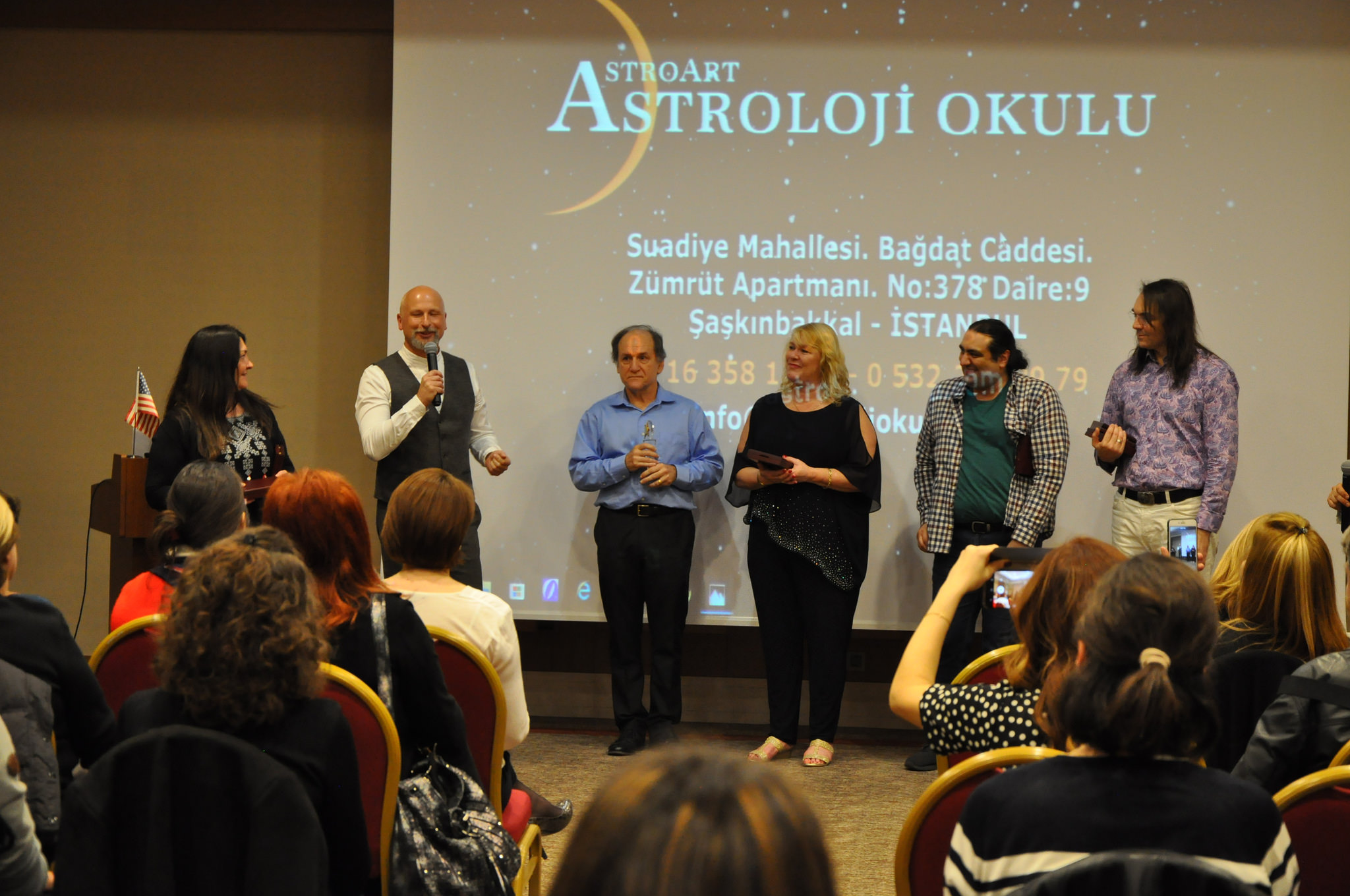 Diploma- International Approvals – Representations
AstroArt Astrology School, which aims reaching internationally approved high standards in the frame of its founding philosophy, has been one of the schools that are approved by two reputable astrology organizations as of 2015-2016 school year. Certifying the astrology education is crucial for the respectability of this profession both in domestic and international arena.
The curriculum of our school which extends in three years has been approved by ISAR (International Society for Astrological Research) and APAI (Association for Professional Astrologers International) due to its conformation with the professional standards. This approval suggests that our diploma is also equivalent to any diploma given by the prestigious astrology schools which are also approved by ISAR and APAI.
https://youtu.be/uTlwMukIJ4E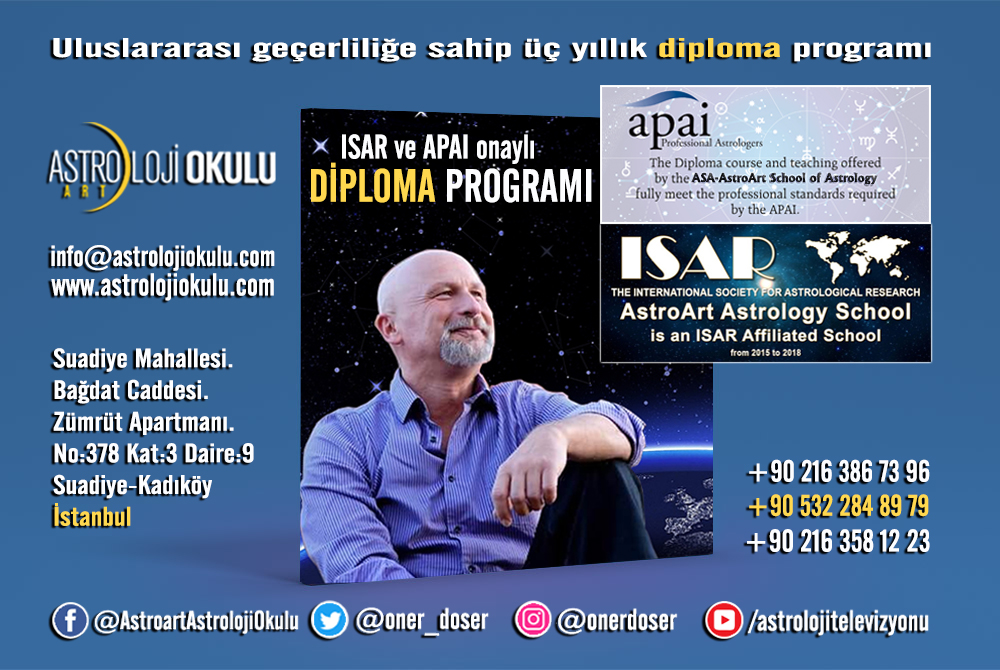 ISAR is the most prestigious astrological organisation in-field gathering all astrology schools that offer high standard education under a single roof. Schools which are approved by ISAR have the opportunity to be a part of this international platform and to follow the worldwide scientific developments on a regular basis. To get an ISAR approved certificate, the students have to obtain a 70% success in the final exam of our Advanced Level lessons. After this stage, the students have to attend two courses under the titles Consultancy Skills and Ethics Awareness, which are demanded by ISAR and presented under its own responsibility, and to pass the Competency Exam hold by ISAR.  Upon successfully completion of all requirements, applicants receive Certificate of Astrological Proficiency (CAP) and become ISAR Certified Astrologers.
APAI is another prestigious organisation which approved our school to be one of its affiliated schools and recognizes our curriculum. Astrologers who obtain diploma from our school and abide by APAI's Code of Ethics, have the opportunity to apply for APAI Membership. Thus, our graduates who had diploma and became a member of APAI are entitled to use the letters MAPAI after their names. Those titles which are recognized by the astrology community in various countries help are graduates to give consultancy in other countries, to publish their articles in various astrology magazines, to give lectures in regional and international organisations and to maintain professional prestige.
Oner Doser, the founder and the teacher of AstroArt School of Astrology is the Turkey Satellite of OPA (Organization for Professional Astrologers), the latest international collaboration of our school. Maurice Fernandez is the President of OPA. OPA advances the cause of professional astrologers by helping the students and practicing astrologers get the information, insights and experiences they need to foster their understanding of astrology, and launch and enhance their astrology practices. OPA conducts seminars with well-known astrologers and publishes a magazine on a regular basis. Our students may be a member of OPA, as our founder Oner Doser is the Turkey Satellite, and may benefit from the opportunities of being a member.
Our school's target is not only to teach astrology but also to train internationally known and professional astrologers and to bring the educations and opportunities abroad to Turkey. We harbour a multi-faceted attitude and aim to give a comprehensive and high standard astrology education. We always aim a step forward and proceed with a loving attitude.
Contact Us
You can send us your questions and comments