Our Head Office
Since 2005, Astroart School of Astrology (ASA) has been providing educational programmes. Our headquarter, located in Suadiye/Istanbul, consists of one classroom, administrative divisions and Astrology Shop.
Our class environment is known for its sincerity. Before the lessons, you may always find tea and coffee and snack prepared by us and also brought by our students. Exchange of love is always important for us as well as exchange of knowledge; we aim to meet everyone in a loving environment.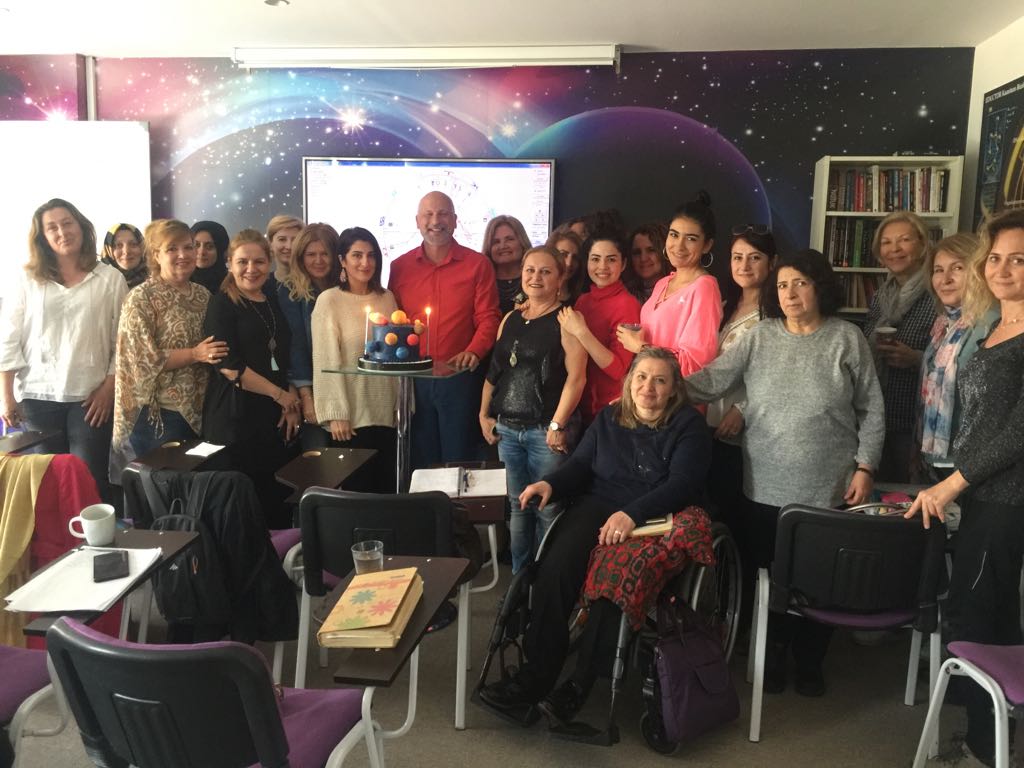 In-Class Education Programs
Our Basic Astrology Education is formed of Beginner, Intermediate and Advanced Level courses each lasts for one year. After the completion of each level, students attend an exam and entitled to receive a Certificate. Entering the exams is optional, not mandatory. The students who do not take the exam or who do not achieve sufficient success (50% for Beginner Level, 60% for Intermediate Level and 70% for the Advanced Level) may attend upper levels; however they cannot get certificates after the diploma afterwards. The exam after the Advanced Level is the most important one where the students take both written and oral exams. The average accomplishment of these two exams should be 70% to receive the DIPLOMA. Diploma ceremonies are in March and June each year.
In addition to our three-year Beginner, Intermediate and Advanced Level classes, we open Specialty Courses each year. The prerequisite for attending some of these Specialty Courses is to complete the Beginner Level successfully whereas for some Specialty Courses (Esoteric Astrology, Cosmic Astrology, Vedic Astrology, etc.) this is not an obligation. If you are interested in Horary Astrology, Electional Astrology, Esoteric Astrology, Cosmic Astrology, Mundane Astrology and Vedic Astrology to extend your knowledge, please follow the "Announcements" link about the new classes.
How does our In-class Education System Work?
In-class educations are organised for maximum 40 students in each class, at the same day and hours of each week. For the subjects and more detail on lessons, please follow the "Curriculum" link.
http://www.astrolojiokulu.com/en/curriculum
The majority of the Beginner, Intermediate and Advanced Level lessons are given by Oner Doser while some of them are lectured by other teachers.
Lessons are delivered through a computerised barcovision where PowerPoint presentations and sample charts are easily tracked by the students. The students are encouraged to ask question during the lessons. Each lesson takes 3 hours including a long break.
Reference Books
We recommend you to obtain "Astrolojide Temel Kavramlar" (Basic Concepts in Astrology, not translated yet), "Astrolojide Gösterge Tespiti" (Astrological Significators, not translated yet), "Astrolojide Öngörü Yöntemleri" (Astrological Prediction: A Handbook of Techniques, available in English) books published by AstroArt School of Astrology Publications. These books are prepared as a reference for the lessons however it is not mandatory to buy them. During the lessons, we also recommend some local and foreign references.
What does Learning Astrology at a School Bring to you?
Astrology education begins with understanding that astrology has a deeper and comprehensive structure which requires analytical thinking. In our lessons, starting from the simple to the complicated, detailed information is given on the history of astrology and the meaning of the planets and the signs, manual chart calculation, erecting composite charts, identifying relationship dynamics and determining significators of health and length of life.  Learning becomes easier through this process from simple to difficult. In other words, the sequence of the lessons helps you to understand the next lesson. Solar Fire astrology program is used in or lessons and separate seminars are conducted on how to use this software. Learning all ancient knowledge to today's astrology individually takes time and is hard to do completely due to the comprehensive structure of astrology. Consequently, learning astrology at a school with the help of an instructor in a systematic way is crucial.
Our purpose is not to train people to read their own charts only but to train world class astrologers who know the astrological process and all teachings in this field. Nevertheless, we respect on different learning processes and on the willingness of the student for showing advance. Learning process of each student is specific; so our students are totally free to make their choices.
Validity of Graduation from School of Astrology
AstroArt School of Astrology's (ASA) three-year curriculum has been approved by ISAR (International Society for Astrological Research) and APAI (Association for Professional Astrologers International) due to its conformation with professional standards. These approvals affirm that our diploma is equivalent to the diplomas that are given by other reputable astrology school approved by ISAR and APAI.
Please visit the link below to see the schools approved by APAI: http://professionalastrologers.co.uk/study-astrology/
Please visit the link below to see the ISAR affiliated schools: http://tr.isarastrology.org/affiliated?list=1
Contact Us
0216 386 73 96 and 0532 284 89 79, in[email protected] For further information please contact us.